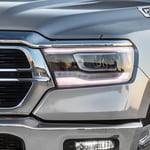 Anyone that drives a Ram 1500 quickly learns about the incredible number of features it has. This light-duty pickup truck continues to be a favorite of discerning drivers that care about safety and quality.
Advanced Airbag Technology

There are six airbags in the Ram 1500 that were developed with the ability to adapt during an accident. These airbags will accommodate the size of the occupants and the severity of the accident. Airbags in the Ram 1500 were developed with your safety in mind.

High-Strength Steel

?Some people say cars are weaker than they were years ago. That certainly isn't the case with the Ram 1500. It's made of high-strength steel, which contributes to outstanding durability. It's no secret that high-strength steel also enhances safety.
The team here at Morehart Murphy Regional Auto Center has no doubt that you're going to love the Ram 1500 as much as we do. That's why we invite you for a test drive today!