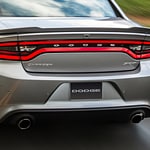 Whether you choose the SXT, GT or SRT Hellcat, you'll receive a ton of enjoyable features as well as plenty of power. The Dodge Charger offers widebody trims, all-wheel drive and a performance suspension system. Consumers will have access to V8 or V6 engines, and the largest engine will deliver a whopping 707 horsepower.
The interior of this menacing sedan is also based on performance, but it encompasses on a generous amount of luxurious components. The vehicle's leather-trimmed seats will come equipped with heated/ventilated function. Sport and performance-inspired seats are available to your liking. The Dodge Charger also has a customizable display screen that's touch sensitive. Voice command and hands-free capability is possible thanks to Bluetooth connectivity. You can even read messages by touching the display screen. There's also HD radio, Apple CarPlay and premium audio.
Swing by our showroom for a full tour of the new Dodge Charger.