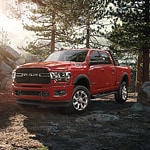 Heavy-duty pickup trucks are the name of the game when it comes to vehicles that can get rugged work done. Of the available trucks on the market, it's hard to find a brand that's more consistent than Ram. The Ram 2500 has been turning heads here at Morehart Murphy Regional Auto Center for its design, tech, and its durability features in particular.
The Ram 2500 is as durable as they come, featuring a 50,000 PSI steel frame that's built to withstand any force in its path. It all but guarantees the safety of you and your passengers, and will help significantly in securing your mind when taking the 2500 out for a ride. Another feature worth mentioning is the 2500's five-year powertrain limited warranty, which should give you additional peace of mind for some time to come.
If you want to experience the best of the best, then come test drive the Ram 2500 here at Morehart Murphy Regional Auto Center.