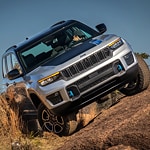 The 2023 Jeep Compass is one of the most recognizable vehicles you can test drive at Morehart Murphy Regional Auto Center. The SUV's rugged exterior gives it the best possible look for off-roading and makes heads turn. The 17.0-inch wheels will help you traverse any obstacle on any terrain or road.
As mentioned, the standard wheels on every trim level of the 2023 Jeep Cherokee sit 17.0 inches high. Upgrade to the Trailhawk edition of the SUV to find all-terrain tires on the SUV. These features allow you to drive over any obstacle without worrying about getting stuck. Use the tow hooks if you do encounter a dangerous situation.
The front grille on the 2023 Jeep Cherokee is black with chrome accents. It matches the black detailing on the window trims and mirror caps to add to the aggressive vibe of the SUV. Upgrade to a premium trim level to find automatic windshield wipers and heated side mirrors on your SUV.