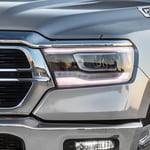 Anyone that drives a Ram 1500 quickly learns about the incredible number of features it has. This light-duty pickup truck continues to be a favorite of discerning drivers that care about safety and quality.
Advanced Airbag Technology

There are six airbags in the Ram 1500 that were developed with the ability to adapt during an accident. These airbags will accommodate the size of the occupants and the severity of the accident. Airbags in the Ram 1500 were developed with your safety in mind.


Read More